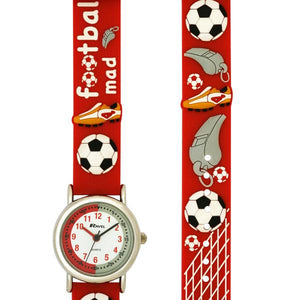 Ravel R1513.32R Football Time Teacher White Dial Kids - Boys Red Watch
A simple and fun childrens analogue watch by Ravel this is a no-frills wrist watch that functions to a high capacity serving any child well for every day use. 
This watch is an ideal gift for kids. 

Product Features: 
* Quartz Movement. 
* Time Teacher Feature. 
* Red Strap With 3D Images. 

Strap Measurements: 
This watch fastens with a buckle on any of the 8 holes. 
* Length from one end of the strap to the other: 21cm. 
* Length when fastened on tightest hole: 15cm. 
* Length when fastened on loosest hole: 18cm. 
---
We Also Recommend